Dateien auf dem USB
Auf dem USB-Stick müssen eine spezifische Struktur und gewisse Dateiformate respektiert werden.
Der Ordner 'audio'
Jeder PinSound Mix muss innerhalb der folgenden Struktur organisiert sein: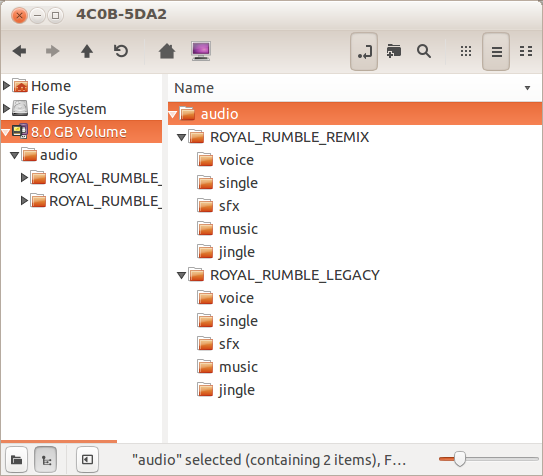 der Mix muss im Ordner "audio" im Wurzelverzeichnis des USB-Sticks gespeichert werden
mehrere Mixe können gleichzeitig auf dem selben USB-Stick gespeichert sein
der Name des ersten Ordners ist nicht wichtig, aber die Titel der Unterordner
jeder Mix braucht das folgende Verzeichnis: jingle, sfx, single, voice (Kleinschreibung und Typografie sind zu beachten)
Struktur eines Soundmixes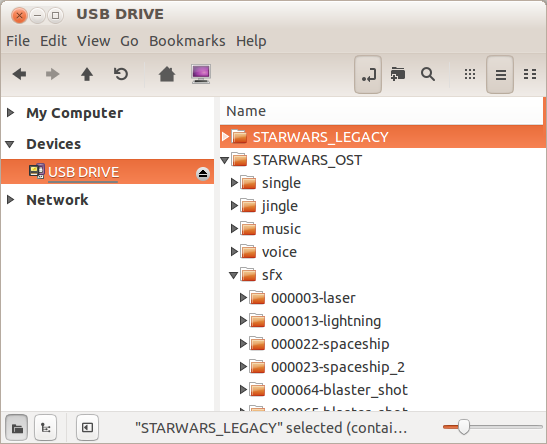 jeder Sound-Unterordner muss mit einer Bestimmungsnummer beginnen

zwischen 000000 und 900000, in dezimal, gefolgt von einem Bindestrich "–"

jede Bestimmungsnummer muss einzigartig sein (sogar innerhalb der verschiedenen Ordner)
der Name nach der Nummer ist nicht wichtig und dient Ihnen nur zur späteren Wiedererkennung (Sie können Ihre Datei also zum Beispiel "000012-engine_starting_loud" oder "000012-wasauchimmer" nennen)
jede kompatible Audiodatei, die Sie in einem solchen Unterordner zur Bestimmung gespeichert haben, wird abgespielt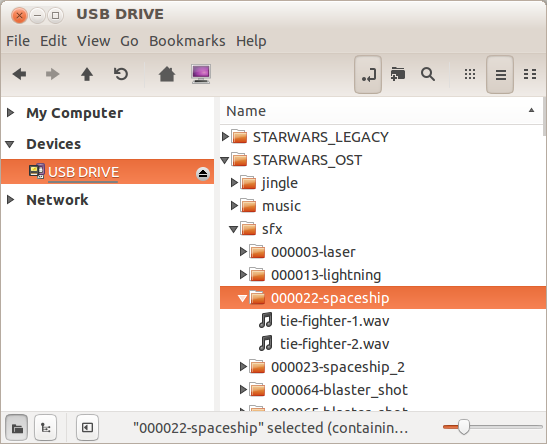 Wenn mehr als eine Datei in einem Unterordner liegen, wird eine zufällig ausgewählt und abgespielt
das Dateiformat muss WAV sein, mono oder stereo, 8bits oder 16bits
Typen der Audio-Unterordner
Der Ordner "voice"
In diesem Ordner werden Stimmen und Ausrufe gespeichert.
Mehrere Stimmen können gleichzeitig gespielt werden, abhängig von Ihrem Flipperautomaten.
Stimmen überspielen Musik oder sfx.
Hey, it's only pinball
You unlock this door with the key of imagination
Welcome race friends to Banzai Run
Der Ordner "sfx"

In diesem Ordner werden sehr kurze Töne gespeichert.
Mehrere SFX können gleichzeitig gespielt werden und Musik und Stimmen überspielen.
Door closing
Explosion 1
Million target
Der Ordner "music"

Musikdateien werden in loops wiederholt und durchgängig gespielt, bis die CPU oder ein "single" sie anhält.
Mission slot machine
Main theme lock lit
Multiball 2 balls
Der Ordner"jingle"
Jingles sind kurze Musikclips, die dann und wann gespielt werden, während die Musik kurz angehalten wird.
Mansion start mission
Piano start mission
Extra ball theme
Der Ordner "single"
Singles sind wie jingles, allerdings wird die angehaltene Musik im Anschluss nicht weitergespielt.
Bonus count
Extra bonus checkout