Reduzierter Preis!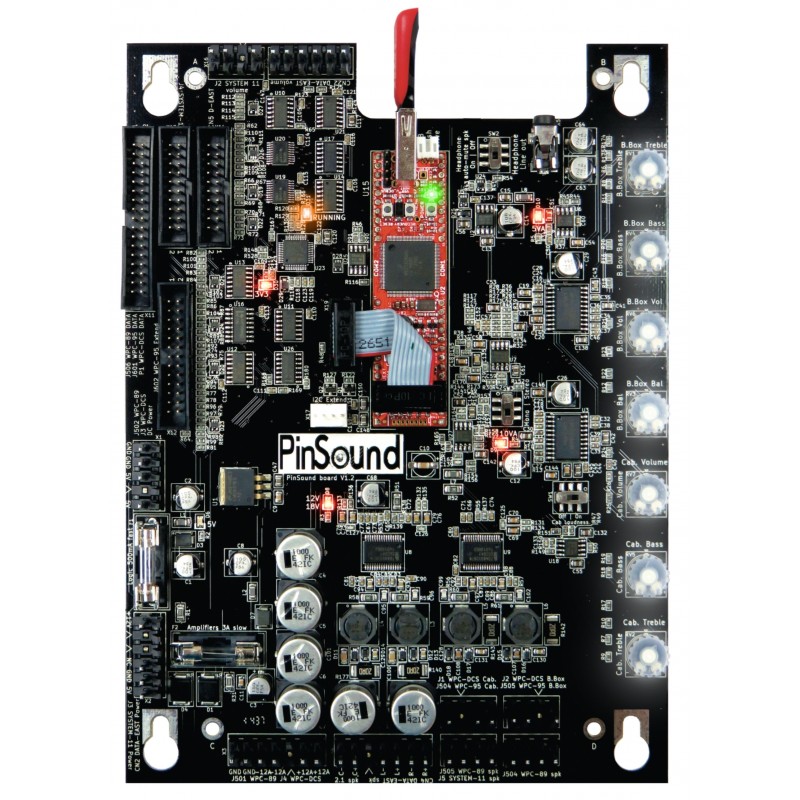 Vergrößern
PinSound Paket
PinSound Paket:
PinSound Karte (universelle Kompabilität)
Quickstart Handbuch
Universal mounting brackets & screws
PinSound keychain
Wenn Sie einen WPC95 Flipperautomaten wählen, ist ein zusätzlicher WPC95 Kabelbaum enthalten
if you select a SEGA / STERN pinball machine: additional Whitestar kit included

No USB flash drive included

. We recommend this one: PinSound Sandisk USB 3.0 16Go
Mengenrabatt
Menge
Rabatt
Sie sparen
10
$37.00

Bis zu

$370.00
4
$15.00

Bis zu

$60.00
Mehr Infos
PinSound ist eine neue Soundkarte für Flipperautomate
Das PinSound Paket ist mit Data East Rev3, System11-C, WPC89, WPC-S & WPC95 Flipperautomaten kompatibel.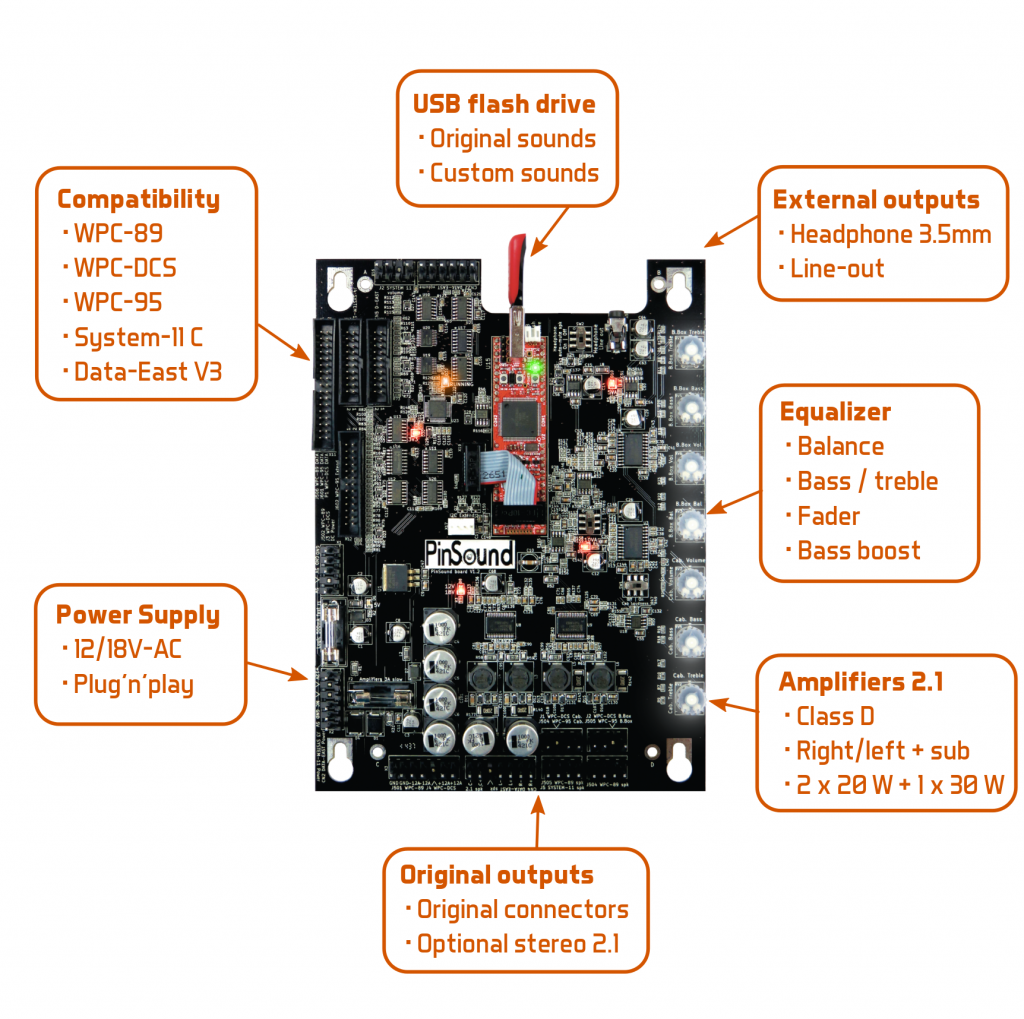 PinSound Karte


Ausstattung
"plug'n play" Soundkarte
einzigartige Verstärkung auf 2.1 für den besten Sound Ihrer original Lautsprecher
jeder Legacy Sound kann bequem per Computer durch Ihre persönliche Musik ersetzt werden
Mischungen zwischen original Sounds und HQ Sounds sind möglich (jedes Mal, wenn Sie die Lautstärke auf 0 stellen, wechselt die PinSound Karte den Klangmix)
mehrspurig (die PinSound Karte kann viele Lieder gleichzeitig spielen, im Gegensatz zum Legacy Sound Board, welches begrenzt ist)
line-out Anschlüsse, für Kopfhörer und Lautsprecher
Klangregelung (Höhen, Bässe, Bass boost, Lautstärke, ...)
Lautstärkenregelung (separat für Back-box und Kabinett)
Potentiometer-Anschluss für DATA-EAST und SYSTEM-11
made in France
Kompatibilitätsliste
PinSound ist eine verbesserte Ersatzsoundkarte für :
Spezifizierung
 
PinSound
Data East
System 11-C
WPC pre-DCS
WPC DCS
WPC 95
Lautsprecher output

Stereo 2.1

Stereo 2.1
Mono 1.0
Mono 1.0
Mono 1.1 (Kabinett/backbox)
Mono 1.1 (Kabinett/backbox)
Datenträger

USB flash drive

 

UVPROM

UVPROM

UVPROM

UVPROM/EPROM

UVPROM/EPROM

Sample rate
44Khz

11KHz

11KHz

11KHz

32KHz

32KHz

unterstützte Dateiformate

 

WAV (44KHz stereo)

urheberrechtlich geschütztes Format

urheberrechtlich geschütztes Format

urheberrechtlich geschütztes Format

urheberrechtlich geschütztes Format

urheberrechtlich geschütztes Format

Energieleistung

2x20W + 1x30W

90% Effizienz

 

 
 
 
 
 
Bass boost

Ja

Nein

Nein

Nein

Nein

Nein

Klangregelung

Bässe, Höhen, Lautstärke, Balance

Nein

Nein

Nein

Nein

Nein

Output für Kopfhörer

 

Ja, auf Steckkontakt geschaltet

 

Nein

Nein

Nein

Nein

Nein

Line out für Lautsprecher

 

Ja

Nein

Nein

Nein

Nein

Nein

Lautstärkenregelung

Digital und per Potentiometer (digitalisiert)

Potentiometer
Potentiometer
Digital
Digital
Digital
Erweiterungssteckplatz

Erweiterungsanschluss I2C

 

Nein

Audio input

Nein

Audio input

Nein

Automatische Stummschaltung nach 30s

 

Ja

Nein

Nein

Nein

Nein

Nein

Mehrere Spielmusik-Mixe möglich

 

Ja

Nein

Nein

Nein

Nein

Nein

Personalisierte Sounds
Ja

Nein

Nein

Nein

Nein

Nein

Vielfältige Sounds für ein und das selbe Klangereignis

 

Ja

Nein

Nein

Nein

Nein

Nein

Mehrspurig

Bis zu 6 Spuren

begrenzt
begrenzt
begrenzt
begrenzt
begrenzt
Geschützter input/output

Ja

Nein

Nein

Nein

Nein

Nein
Eine Karte: viele Automate
Die selbe PinSound Karte kann bequem per plug'n play in eine große Anzahl verschiedener Flipperautomate eingesetzt werden.
| | |
| --- | --- |
| WPC-89/DCS | WPC95 |
| Data East | System 11-C |
Reviews
(3)
M Henrik




Jan 16, 2017




Awesome product - a must have for your machine

Hi, my name is Henrik - I run pinball-dreams.com. So refurbishing machines to a high end level for our customers since 10 years. We're permanently looking for nice enhancements for our customers machines to make them even more unqiue. Couple of months ago we installed the first pinsound board to a Terminator 2 machine. The result was mind blasting - sound quality is simply superb, installation quite easy. I can absolutely recommend Pinsound boards. We meanwhile recommend them to all of our customers and the feedback is fantastic. I didn't like test playing Terminator machines any more - simply played this machine to often in my life. This completely changed since it had it's little sound upgrade - feels like a new machine - absolute stunning Go and get a Pinsound board for your machines - you won't regret it Keep on the great work guys Cheers Henrik
F Marcel




Jan 15, 2017




Excellent product

Order was very quickly shipped to Switzerland without any problems. Installation of the board is simple and it is a nice gesture to include the USB memory stick so that the audio files can be immediately downloaded from the forum and put on the stick. Audio conversion takes a while but this is only once. The website gives all the required information and configuration options. The sound quality is way better than the original sound boards - but it is also recommended to switch to better loudspeakers. Overall very very happy with the product! Thanks guys!
S Baptiste




Jan 13, 2017




Produit de haute qualité

Reçu rapidement, avec packaging très soigné et facile à installer, la carte Pinsound a littéralement métamorphosé mon flipper, et je peux même dire MES flippers maintenant ! Le changement est bouleversant !! Passer d'un son mono avec des musiques d'origines de qualité souvent moyennes, à un son stéréo HD avec des musiques de film originales, d'une qualité incomparable par rapport à l'origine, par la puissance et les réglages détaillés graves aiguës boomer, etc..., le boomer de mon T2 pourrait presque faire office de shaker ;-), le flipper n'est plus du tout le même, c'est comme un jeu nouveau !!! J'ai eu le plaisir de créer un mix pour un de mes flips, et le pouvoir de création est fantastique !!! Totale liberté sur ce que l'on souhaite "entendre" de sa machine, et de façon simple, grace au très bon logiciel de travail "Pinsound studio" fourni sur le site. En tant qu'utilisateur de cette carte depuis 2 ans, je recommande ce produit ++ et sans réserve !!
Nur Benutzer, die bereits das Produkt gekauft haben können Bewertungen hinzufügen.