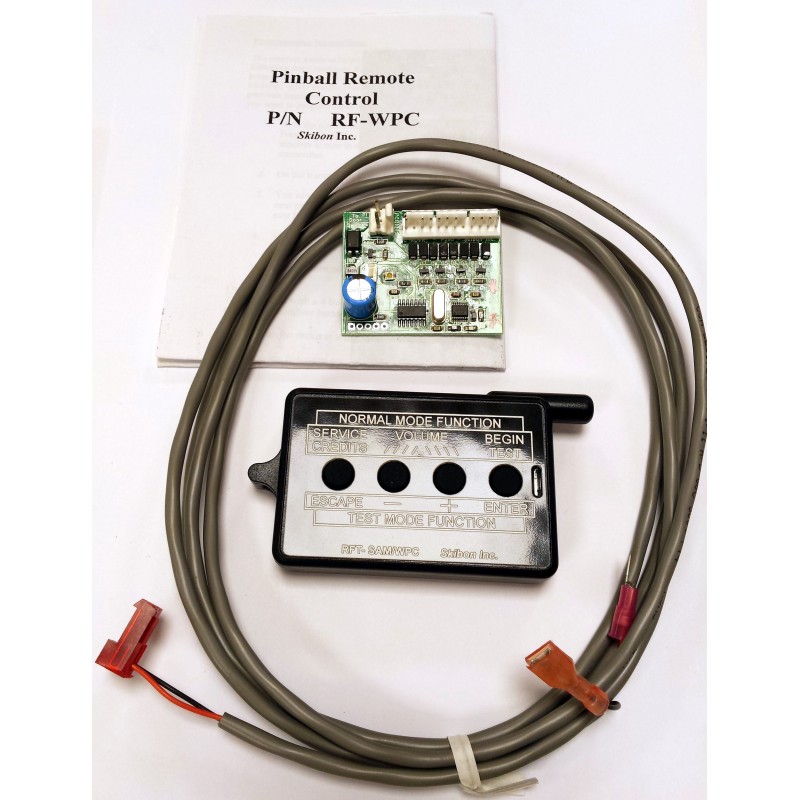 View larger
Bally Williams WPC Wireless Remote Control
skibon-rf-wpc
Wireless Remote Control for your pinball machine!

Tired to set the volume level whenever friends or kids would like to play with your pinball machines?
You would like to give a free credit for customers in your bar to test the pinball machine?

You don't need to bother the player in front of your game, just set the volume or credits with this pinball machine remote controler!
More info
This system gives you a remote access to adjust volume up/down, add credits, and access all test/audit menus without the coin door open.
The coin door buttons on the pinball machine will still operate after the receiver is installed.

This plug'n play kit is really easy to install, you need less than 2 minutes (no soldering or tools required).

Multiple transmitters can be paired to one pinball machines receiver. If you have multiple machines
it is possible to program one master volume control transmitter to multiple machines.

The transmitter includes a loop so that you can hook it to your machine's key ring if you desire.

Complete instructions are included.

Fully compatible with all the WPC pinball machines:
- FunHouse
- Harley-Davidson
- The Machine: Bride of Pin·Bot
- Gilligan's Island
- Terminator 2: Judgment Day
- Hurricane
- The Party Zone
- The Getaway: High Speed II
- The Addams Family
- Black Rose
- Fish Tales
- Doctor Who
- Creature from the Black Lagoon
- White Water
- Bram Stoker's Dracula
- Twilight Zone
- The Addams Family Special Collectors Edition
- Indiana Jones: The Pinball Adventure
- Judge Dredd
- Star Trek: The Next Generation
- Popeye Saves the Earth
- Demolition Man
- World Cup Soccer
- The Flintstones
- Corvette
- Red & Ted's Road Show
- The Shadow
- Dirty Harry
- Theatre of Magic
- No Fear: Dangerous Sports
- Indianapolis 500
- Johnny Mnemonic
- Jack·Bot
- WHO Dunnit
- Congo
- Attack from Mars
- Safecracker
- Tales of the Arabian Nights
- Scared Stiff
- Junk Yard
- NBA Fastbreak
- Medieval Madness
- Cirqus Voltaire
- No Good Gofers
- The Champion Pub
- Monster Bash
- Cactus Canyon


Reviews
(0)
No customer reviews for the moment.
Only users who already bought the product can add review.