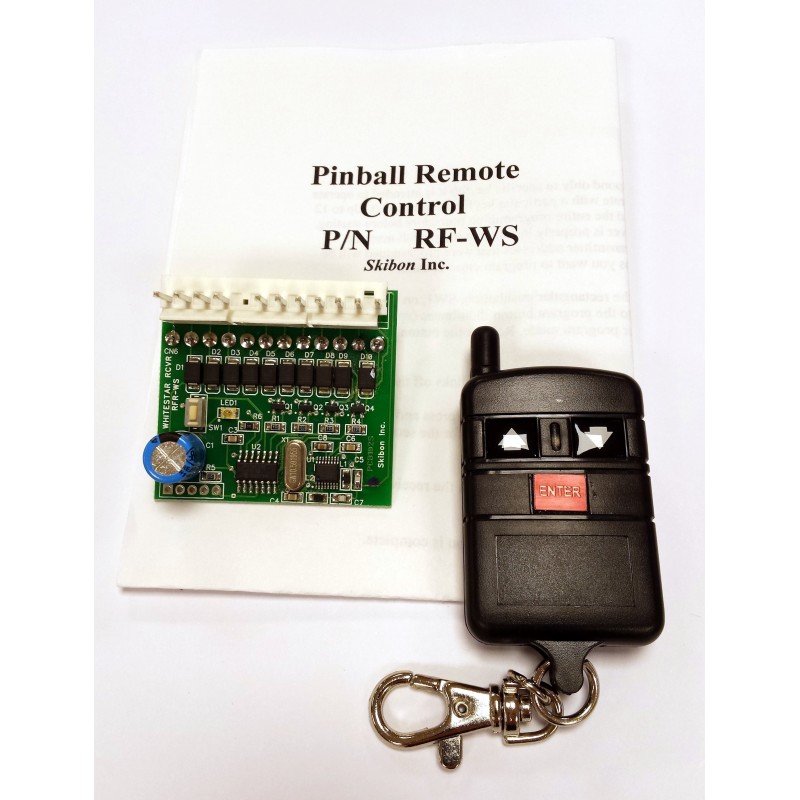 View larger
SEGA STERN Whitestar Wireless Remote Control
skibon-rf-whitestar
Wireless Remote Control for your pinball machine!

Tired to set the volume level whenever friends or kids would like to play with your pinball machines?
You would like to give a free credit for customers in your bar to test the pinball machine?

You don't need to bother the player in front of your game, just set the volume or credits with this pinball machine remote controler!
More info
This system gives you a remote access to adjust volume up/down, add credits, and access all test/audit menus without the coin door open.
The coin door buttons on the pinball machine will still operate after the receiver is installed.

This plug'n play kit is really easy to install, you need less than 2 minutes (no soldering or tools required).

Multiple transmitters can be paired to one pinball machines receiver. If you have multiple machines
it is possible to program one master volume control transmitter to multiple machines.

The transmitter includes a loop so that you can hook it to your machine's key ring if you desire.

Complete instructions are included.

Fully compatible with all the SEGA / STERN Whitestar pinball machines:
- Apollo 13
- Godzilla
- Goldeneye
- Harley Davidson
- Independence Day
- Lost In Space
- South Park
- Space Jam
- Star Wars Trilogy
- Starship Troopers
- The Lost World
- Twister
- Viper Night Drivin'
- X-Files
- Austin Powers
- High Roller Casino
- Monopoly
- NFL
- Playboy
- RollerCoaster Tycoon
- Sharkey's Shootout
- Striker Xtreme     
- Terminator 3: Rise of the Machines
- The Simpsons Pinball Party
- Elvis
- Elvis Gold
- Grand Prix
- NASCAR
- Ripley's Believe It or Not!
- The Lord of the Rings
- The Lord of the Rings (Limited Edition)
- The Sopranos
Reviews
(0)
No customer reviews for the moment.
Only users who already bought the product can add review.