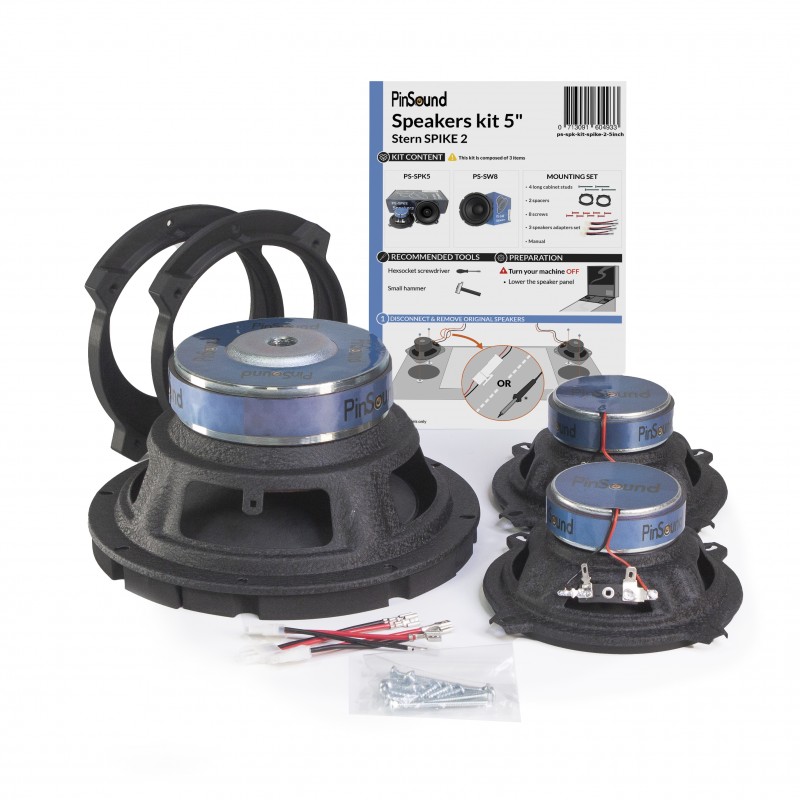  
Speakers Kit - STERN Spike 2 - Limited Edition Upgrade
Upgrade your Pro / Premium Stern Spike machine with better than Limited Edition 5.25" speakers!
The kit also contains the powerful PinSound 8" subwoofer that will guarantee deep bass in your game.

Provided with all the required mounting accessories, screws, wiring.

Easy installation with a friendly manual (no permanent modification on your pinball machine).
Secured payment
Visa / Mastercard / Paypal
Fast dispatch & delivery
Domestic & International shipping
Technical features
5.25 inch 2-ways coaxial high sensitivity speakers set
8 inch subwoofer high sensitivity with extended bass frequency response
Kit including
2 x 5.25 inch PinSound speakers
1 x 8 inch PinSound subwoofer
2 x mounting spacers
3 x speaker fast connectors
1 x screws set
1 x illustrated step by step installation guide
Compatible with:
SPIKE 2 pinball machines

Aerosmith (Pro/Premium/LE)
Avengers: Infinity Quest (Pro/Premium)
Batman 66 (Premium/LE/SLE)
Beatles (Gold/Platinum/Diamond)
Black Knight: Sword of Rage (Pro/Premium)
Deadpool (Pro/Premium)
Elvira's House of Horrors (Premium)
Guardians of the Galaxy (Pro/Premium/LE)
Godzilla (Pro/Premium)
Iron Maiden (Pro/Premium)
Led Zeppelin (Premium)
James Bond 007 (Pro/Premium)
Jurassic Park (Pro/Premium)
Rush (Pro/Premium)
Star Wars (Pro/Premium/LE)
Stranger Things (Pro/Premium)
Teenage Mutant Ninja Turtles (Pro/Premium)
The Mandalorian (Pro/Premium)
The Munsters (Pro/Premium)
Customers who bought this product also bought:
Reviews
(0)