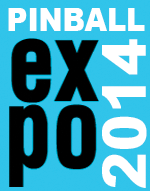 Vincent, a French pinball dude is coming to Pinball Expo 2014, Chicago.
On-board to the plane to Chicago, he will bring a PinSound sound board :)
Thanks to Rob Berk, the Expo organiser, his own Twilight Zone will be equipped, visitors will be pleased to try the PinSound board with the remixed sound set of Twilight Zone !
The pinball machine will be present and ready the 17th & 18th of October, so, don't miss this date to try the PinSound board!
Big thanks to Vincent and Rob !
Twilight Zone reorchestrated preview