[fusion_builder_container hundred_percent="yes" overflow="visible"][fusion_builder_row][fusion_builder_column type="1_1″ background_position="left top" background_color="" border_size="" border_color="" border_style="solid" spacing="yes" background_image="" background_repeat="no-repeat" padding="" margin_top="0px" margin_bottom="0px" class="" id="" animation_type="" animation_speed="0.3″ animation_direction="left" hide_on_mobile="no" center_content="no" min_height="none"]A PinSound fan informed us that he started a website dedicated to home made PinSound audio mixes.
Big thanks to Gerald who developed this site. It's very heartwarming to see such initiative around pinball audio customisation!
We will soon link every PinSound supported machines to this website for reference.
Have a look on this community site : www.pinsound-community.org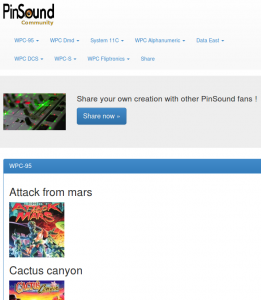 [/fusion_builder_column][/fusion_builder_row][/fusion_builder_container]