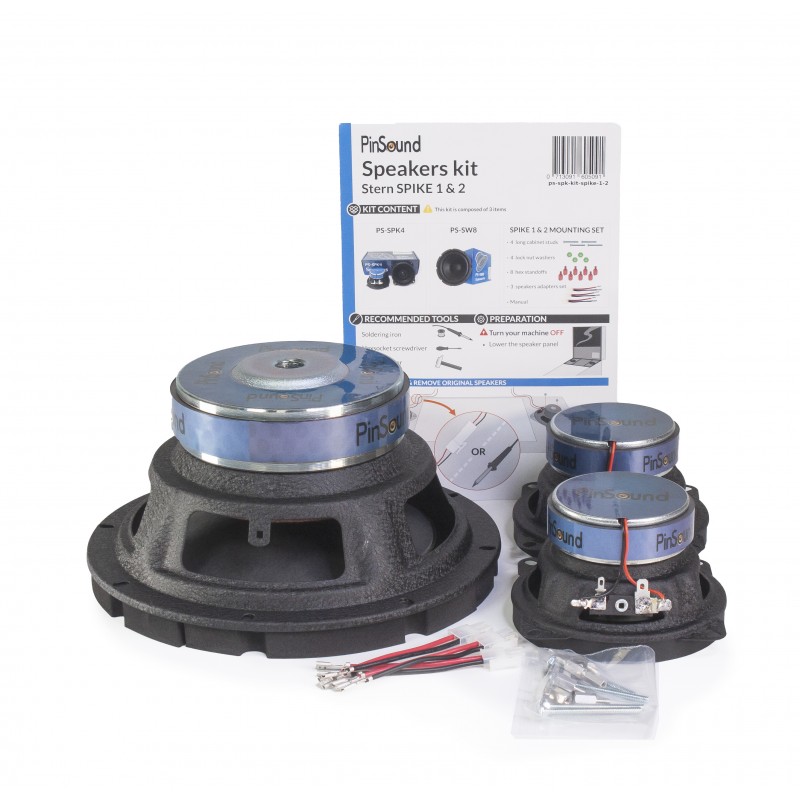  
Speakers Kit - STERN Spike 1
High quality 4" speakers + 8" subwoofer kit specifically designed for STERN Spike 1 pinball machines

These speakers replace the factory speakers to get an amazing sound and the best of the pinball sound track!

Easy installation with a friendly manual (no permanent modification on your pinball machine).
Own a Spike 2 pinball machine? Upgrade your machine with the Limited Edition Speakers Upgrade!
Secured payment
Visa / Mastercard / Paypal
Fast dispatch & delivery
Domestic & International shipping
Technical features
4 inch 2-ways coaxial high sensitivity speakers set
8 inch subwoofer high sensitivity with extended bass frequency response
Kit including
2 x 4 inch PinSound speakers
1 x 8 inch PinSound subwoofer
3 x speaker fast connectors
1 x screws set
1 x illustrated step by step installation guide
Compatible with:
SPIKE 1
KISS (Pro/Premium/LE)
Game of Thrones (Pro/Premium/LE)
Ghostbusters (Pro/Premium/LE)
Wrestlemania (Pro/LE)
Customers who bought this product also bought:
Reviews
(0)