The perfect DMD controller board
For your Bally Williams WPC pinball machine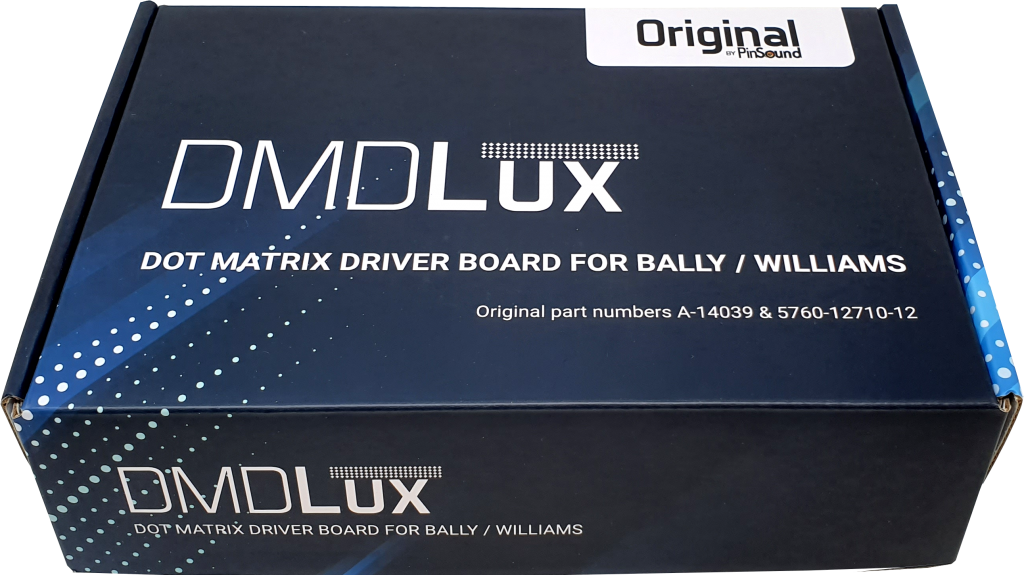 Compatible with every Bally Williams WPC Pinball machines
DMDLux works on all Bally Williams WPC models (89/DCS/95) and with every DMD displays



Bally Williams WPC pinballs: The Getaway: High Speed II | Black Rose | Creature From The Black Lagoon | Doctor Who | Dracula | Fish Tales | Gilligan's Island | Hurricane | Party Zone | Terminator 2 | The Addams Family | Twilight Zone | White Water
Bally Williams WPC DCS pinballs: Corvette | Demolition Man | Dirty Harry | Indiana Jones: The Pinball Adventure | Indianapolis 500 | Jack-Bot | Johnny Mnemonic | Judge Dredd | No Fear: Dangerous Sports | Popeye Saves the Earth | Red & Ted's Road Show | Star Trek: The Next Generation | The Flinstones | The Shadow | Theatre Of Magic | WHO Dunnit | World Cup Soccer
Bally Williams WPC 95 pinballs ("No Audio Video setup", a PinSound PLUS or NEO sound board will be required): Attack From Mars | Cactus Canyon | Cirqus Voltaire | Congo | Junk Yard | Medieval Madness | Monster Bash | NBA Fastbreak | No Good Gofers | Safe Cracker | Scared Stiff | Tales Of The Arabian Nights | The Champion Pub
DMDLux is a replacement part for:  Bally / Williams A-14039 and 5760-12710-12   |   Rottendog DMD089   |   XPin XP-WPCDMD-CTRL   |   Bally / Williams WPC95 audio/video A-20516-50041 (PinSound PLUS or NEO sound board required)
The most reliable DMD controller board
DMDLux is a replacement DMD controller board for any Bally Williams WPC pinball machines. It has been carefully designed to be the most reliable and coldest DMD controller board ever created.
Every PinSound product is designed to offer a high and long-lasting quality. DMDLux has been designed and manufactured to guarantee a long lasting product. DMDLux is covered by a 2-years warranty and will be replaced if anything happens due to materials or manufacturing defects.
Adjustable brightness
Ridiculously easy to switch

3 levels adjustable brightness
DMDLux controller board allows you to switch the brightness of your DMD display on the fly.
No need to swap or solder a resistance, the brightness control button can be set at any time:

BOOST → 120 % brightness – for a brighter (or worn-out) DMD display
NORMAL → 100 % brightness – normal DMD brightness
SAVING → 80 % brightness – for lower energy consumption and longer DMD life
High Efficiency Design
A refreshing new power supply design
The high voltage power supply section usually generates a lot of heat and stress on DMD controller boards. After a while, it can result in early failures or burnt components. DMDLux has been designed with a very high efficiency power supply to offer a longer life expectancy.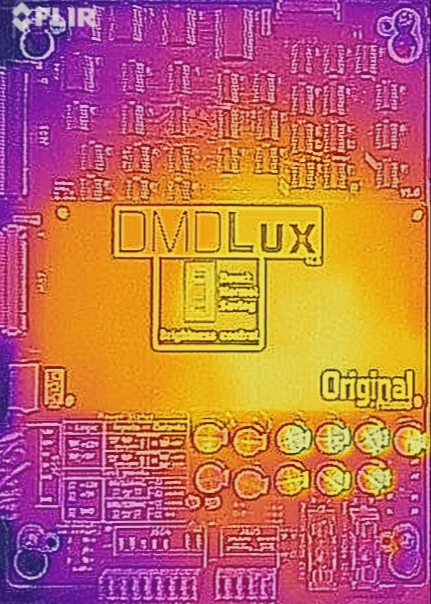 It has been a technical challenge to develop a super efficient power supply design for the DMDLux, thus a very low thermal dissipation. Electronic components reliability and temperature are greatly related: keeping components cool (less than 100°C / 212°F), extends the life expectancy of the whole product.
PinSound LAB: we ran a comparative tests on the different existing DMD controller boards, following a strict protocol.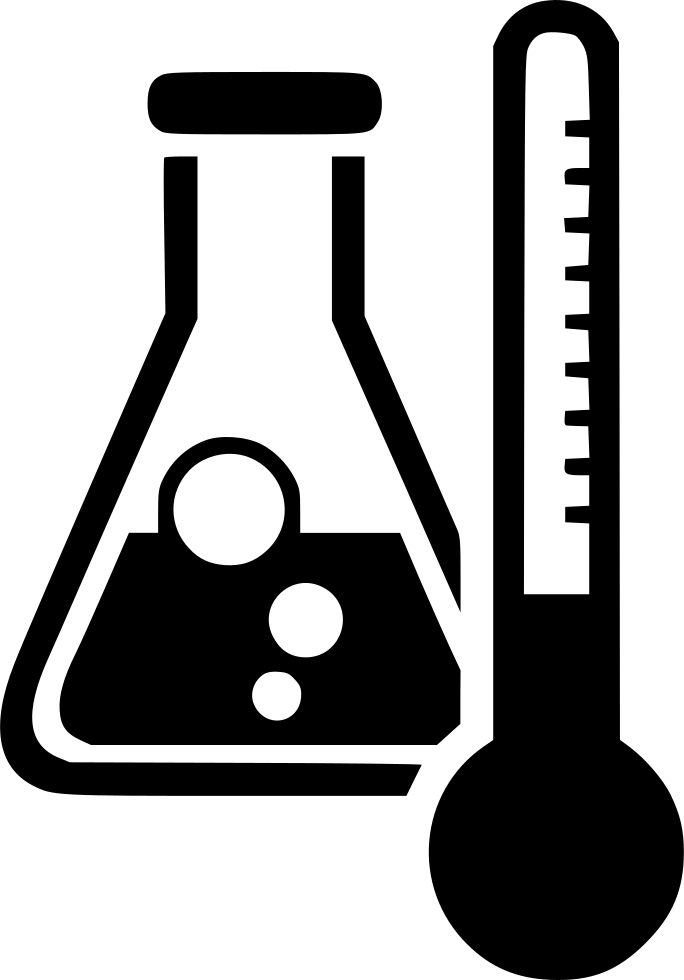 Test conditions:
☑ 25°C (77°F) ambient room temperature
☑ The Addams Family pinball machine
☑ Backbox opened
☑ J605 input voltages: 84VAC(RMS) / 107VAC(RMS)
☑ Output voltages: +62VDC / -125VDC
☑ Dot Matrix Display 128×32 BABCOCK
☑ Thermal camera FLIR ONE
Test steps:
☑ Game powered on and on idle for 10 minutes
☑ System menu / display test / full screen on for 30 sec
☑ Temperature measurement on the hottest point

Test display content (full screen)
Technical specification
Modern technology for your collectible machine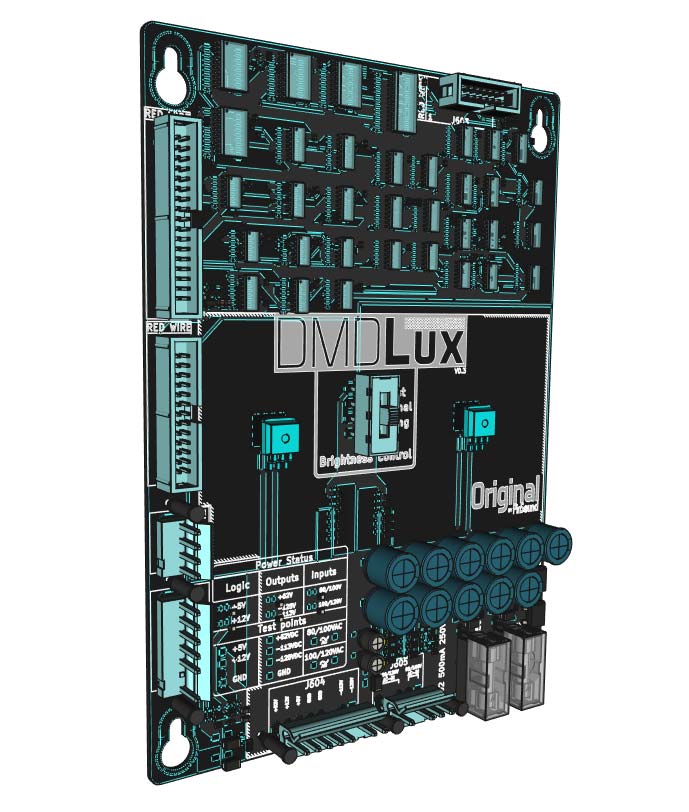 100% compliant with the original data logic processing
100% identical data logic circuitry and components references
Advanced thermal dissipation design
Exclusive power supply design
CMOS efficient and fast logic gate circuit technology
3 user friendly switch for brightness: saving / normal / boost
Mis-insertion pegs and keys (PinSound D-proof connectors)
Shrouded data ribbon connector
Standard 5x20mm fuses cartridges (400mA fast)
ColorDMD +5V / 12V dedicated power connector
Over-voltage protection
Over-current protection
Short-circuit protection
7 status LED for each voltage rails with minimum voltage detection
Test point for each voltage rails
Self diagnosis blown fuses: red LED backlit
18 Advanced Voltage Settings
150% factory burn-in test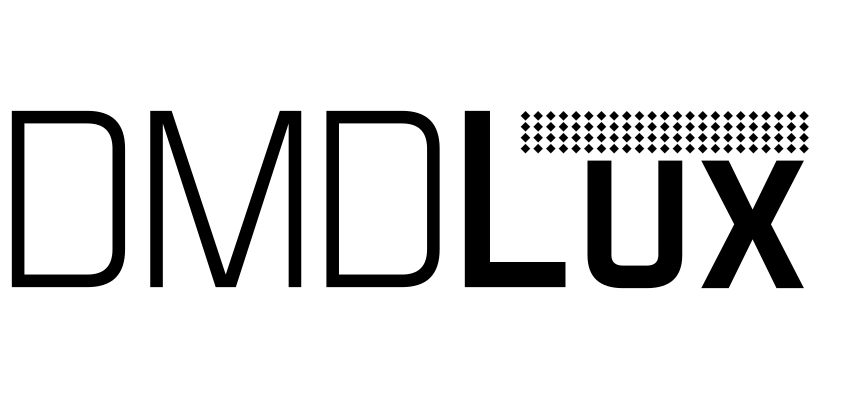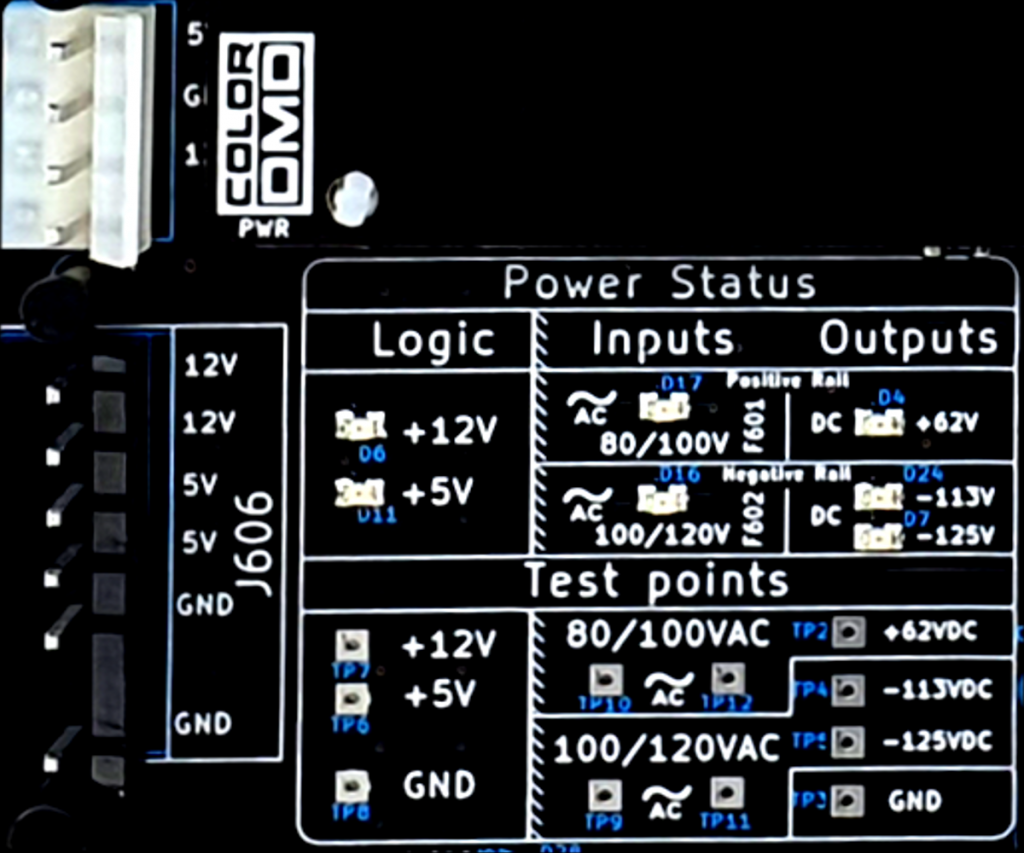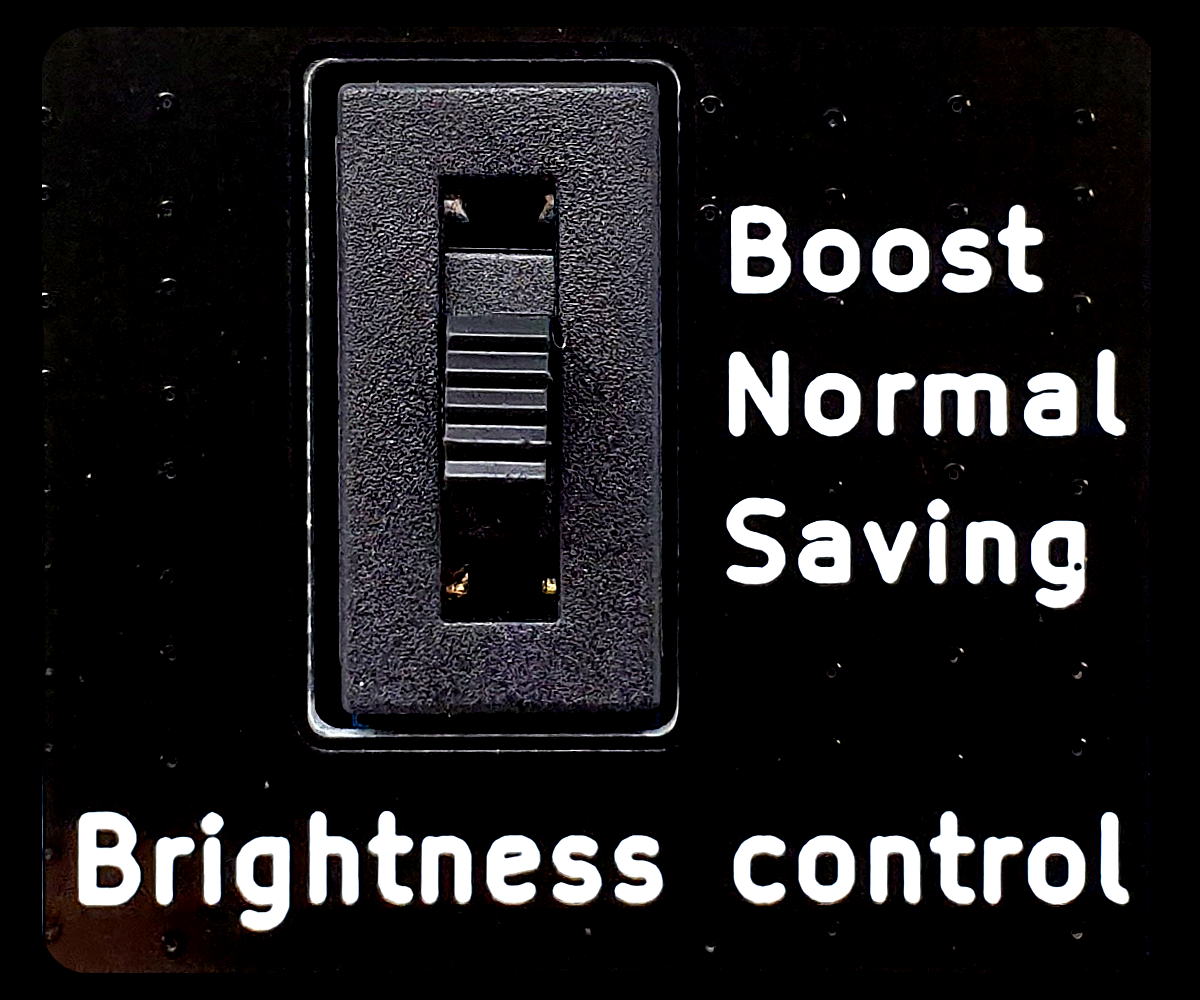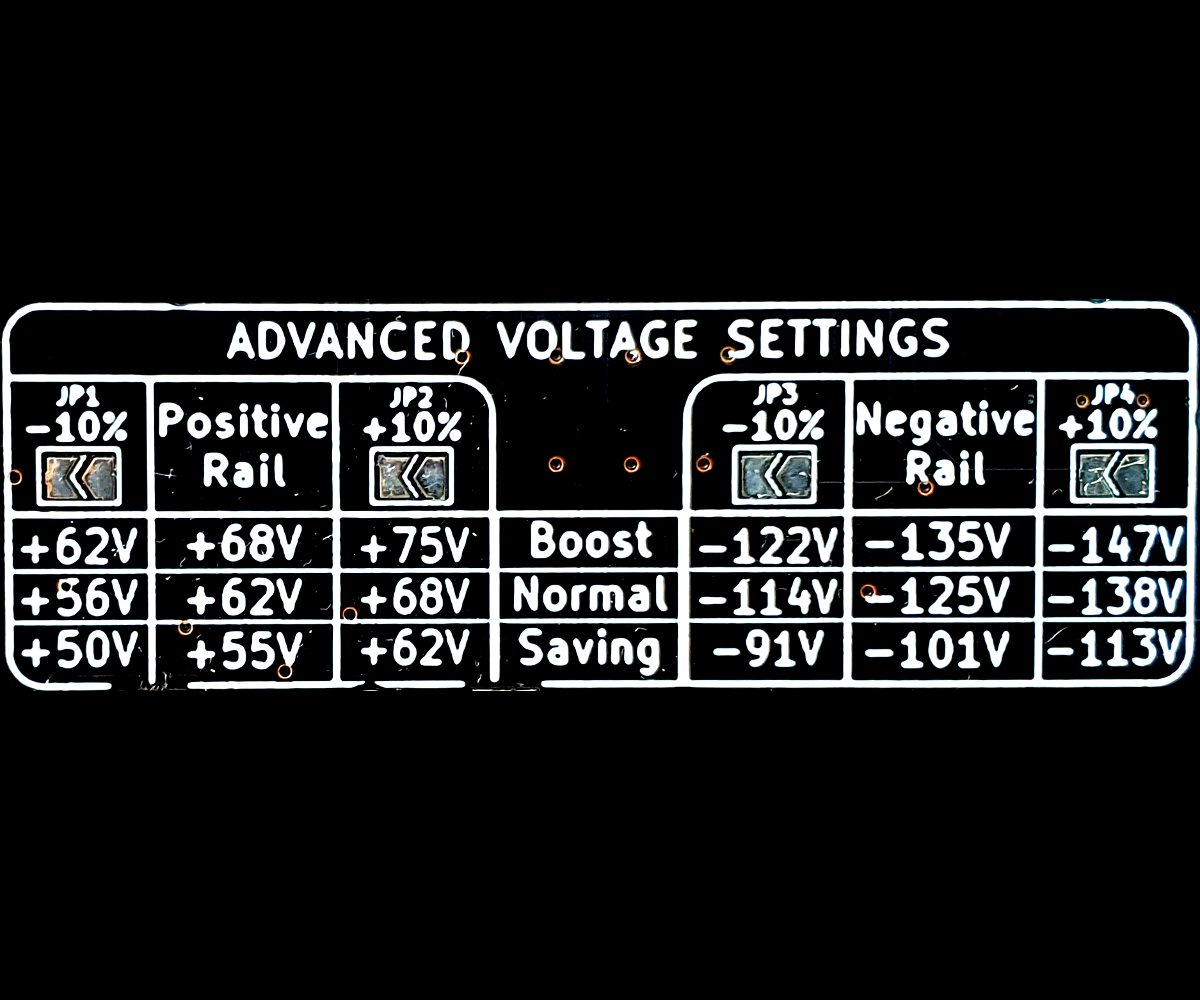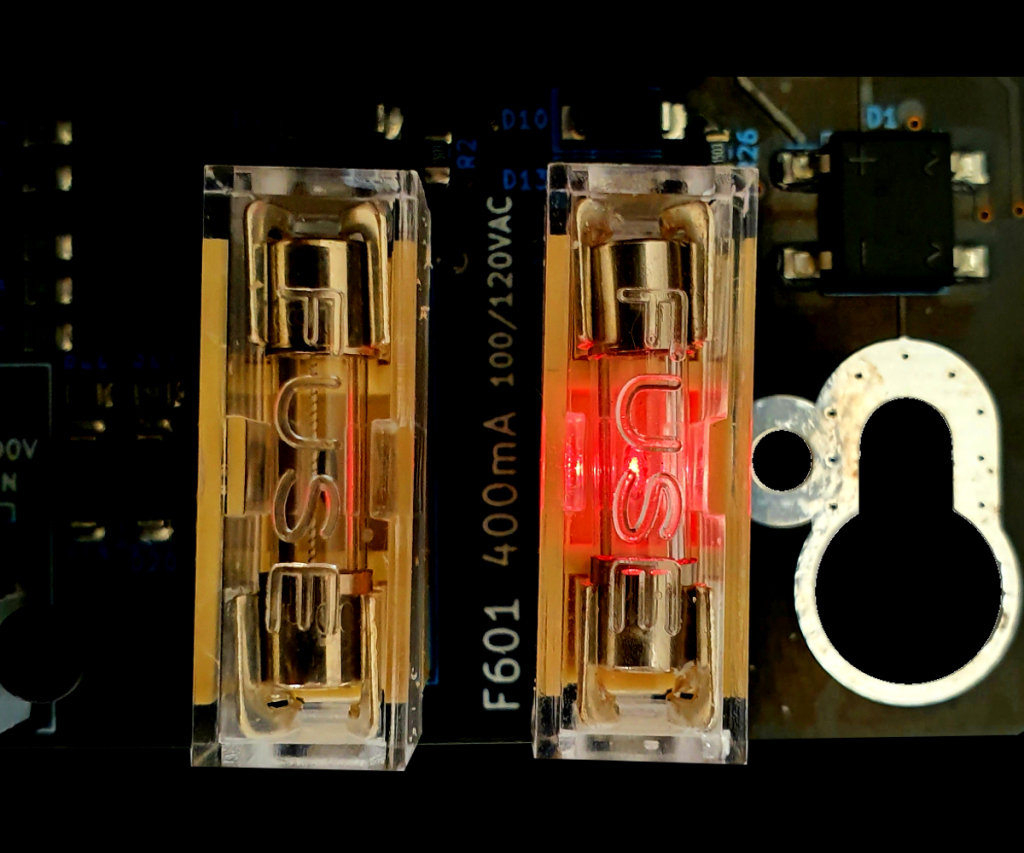 Made by the PinSound Brothers
A few years back, Timothée and Nicolas aka « The PinSound Brothers » embarked on the challenge of designing a new sound board that could bring high quality sound to yesterday's pinball machines. The PinSound project was born and after a full round of designing, engineering and problems solving, they were able to organize the manufacturing process of the PinSound boards.
To beat an ambitious challenge, you always have to train and develop high skills. After 6 years, the two brothers have reached the point where all these skills are merging to become a unique savoir-faire !