Compatible with every Bally Williams WPC Pinball machines
No More Reset works on all Bally Williams WPC models (89/DCS/95)
Bally Williams WPC pinballs: The Getaway: High Speed II | Black Rose | Creature From The Black Lagoon | Doctor Who | Dracula | Fish Tales | Funhouse | Gilligan's Island | Harley-Davidson | Hurricane | Party Zone | Terminator 2 | The Addams Family | The Machine: Bride of Pin-bot | Twilight Zone | White Water
Bally Williams WPC DCS pinballs: Corvette | Demolition Man | Dirty Harry | Indiana Jones: The Pinball Adventure | Indianapolis 500 | Jack-Bot | Johnny Mnemonic | Judge Dredd | No Fear: Dangerous Sports | Popeye Saves the Earth | Red & Ted's Road Show | Star Trek: The Next Generation | The Flinstones | The Shadow | Theatre Of Magic | WHO Dunnit | World Cup Soccer
Bally Williams WPC 95 pinballs: Attack From Mars | Cactus Canyon | Cirqus Voltaire | Congo | Junk Yard | Medieval Madness | Monster Bash | NBA Fastbreak | No Good Gofers | Safe Cracker | Scared Stiff | Tales Of The Arabian Nights | The Champion Pub
No More Reset is a small addon for your CPU in your WPC pinball machine. It guarantees there will always be a stable 5 volts supply going to the CPU board and prevents your machine from untimely resets.
Every PinSound product is designed to offer a high and long-lasting quality. No More Reset has been designed and manufactured to be the more resistant and reliable possible. No More Reset is covered by a 2-years warranty and will be replaced if anything happens due to materials or manufacturing defects.
How does magic work
Prevent your pinball machine from restarting when you play!
"No More Reset" guarantees a stable 5 volts power supply to the CPU board of your pinball machine no matter how hard and often you flip!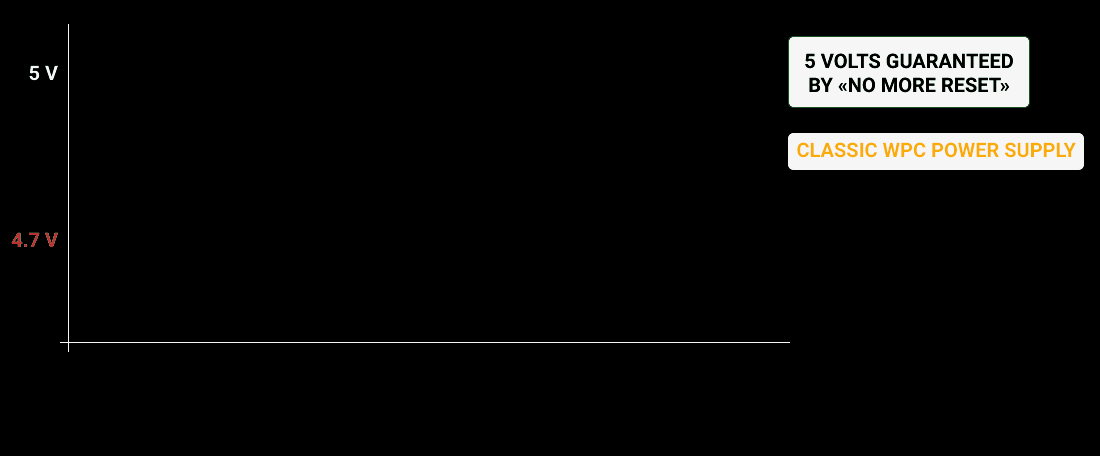 WPC power supply tends to get weaker after time and when voltage going to the CPU board goes under 4.7 volts it automatically starts a reset cycle.
"No More Reset" brings a perfectly stable 5 volts supply to prevent any drop in the CPU power. Your machine won't reboot anymore while you're playing.
Original Power Supply Integrity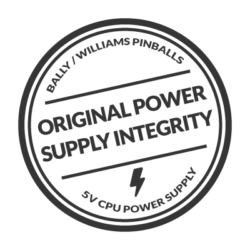 The original 5V is "boosted up" (only when weak) from the 12V supply rail to guarantee a rock solid 5V.
In order to respect the original power design of the machine, no 5V will be generated if the original system 5V is not present at all.

12 grams of pure technology
Guarantee the power of your Bally/Williams WPC pinball machine CPU

500% overated components
200% factory burning test
No mis-firing coil at startup
95% efficiency converter
3 status LEDs
Undervoltage detection
Misconnection protection
Overvoltage protection
Overcurrent protection
Short circuit protection
Compact and sleek design
Fit any WPC machines Made by the PinSound Brothers
A few years back, Timothée and Nicolas aka « The PinSound Brothers » embarked on the challenge of designing a new sound board that could bring high quality sound to yesterday's pinball machines. The PinSound project was born and after a full round of designing, engineering and problems solving, they were able to organize the manufacturing process of the PinSound boards.
To beat an ambitious challenge, you always have to train and develop high skills. After 6 years, the two brothers have reached the point where all these skills are merging to become a unique savoir-faire !