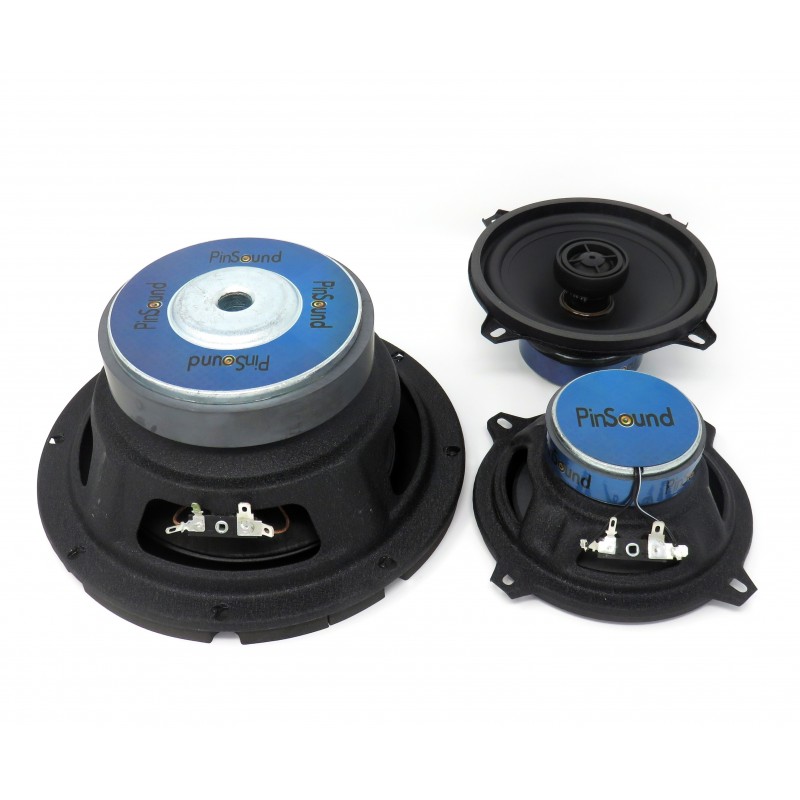  
Speakers Kit - Bally Williams
High quality speakers kit specifically designed for Bally / Williams WPC pinball machines equipped with PinSound!

These speakers replace your stock speakers to get an amazing sound and the best of your PinSound board capabilities!

Easy installation with a friendly manual (no permanent modification on your pinball machine).
Gesicherte Zahlung
Visa / Mastercard / Paypal
Extra Versandschutz
Schneller Versand und Tracking-Link bereitgestellt
These speakers are only compatible with a PinSound board
Technical features
5 inch 2-ways coaxial high sensitivity speakers set
8 inch subwoofer high sensitivity with extended bass frequency response
High quality stereo harness
Kit including
2 x 5 inch PinSound speakers
1 x 8 inch PinSound subwoofer
1 x stereo 2.1 wiring harness
1 x speaker adapter
1 x subwoofer adapter
1 x screws set
1 x illustrated step by step installation guide
Compatible with
WPC 89
Addams Family
Addams Family Gold
Black Rose
Bram Stokers Dracula
Bride of Pinbot
Creature From the Black Lagoon
Dr. Who
Fish Tales
Funhouse
Getaway (High Speed II)
Gilligan Island
Harley Davidson
Hurricane
Terminator 2
Twilight Zone
Whitewater
WPC DCS
Demolition Man
Dirty Harry
Flintstones
Indiana Jones
Indianapolis 500
Jackbot
Johnny Mnemonic
Judge Dredd
No Fear
Popeye
Red and Ted's Road Show
Star Trek the Next Genereation
The Shadow
Theatre of Magic
Who Dunnit
World Cup Soccer
WPC 95
Attack from Mars
Cactus Canyon
Congo
Junk Yard
Medieval Madness
Monster Bash
NBA Fastbreak
No Good Gofers
Scared Stiff
Tales of the Arabian Night
The Champion Pub
Vielleicht gefällt Ihnen auch
Kunden, die diesen Artikel gekauft haben, kauften auch ...
Bewertungen
(4)
These speaker are an outstanding upgrade! They are so clear even when blasting the sound! I would recommend to anyone. Easy plug and play on my Getaway machine!
Total Rating:





Un plus pour parfaire une installation pinsound en complément d'une carte son et d'un Shaker ! Ce kit de très bonne qualité se monte sans aucun problème !!
Total Rating:





The new PinSound speakers for my restored TAF are brillant!! Great! Perfect in combination with my PinSound board and the Communitymix! Breathtaking sound, Completely new gameplay!!

Thanks a lot! All the best!

Steffen
Total Rating:





franchement, c'est même pas le cerise sur le gâteau! c'est bien plus que cela! ne pas négliger cette possibilité, il faut vraiment ces HP avec la carte, c'est les pneu pour faire passer la puissance au oreille! à avoir absolument!!! :)