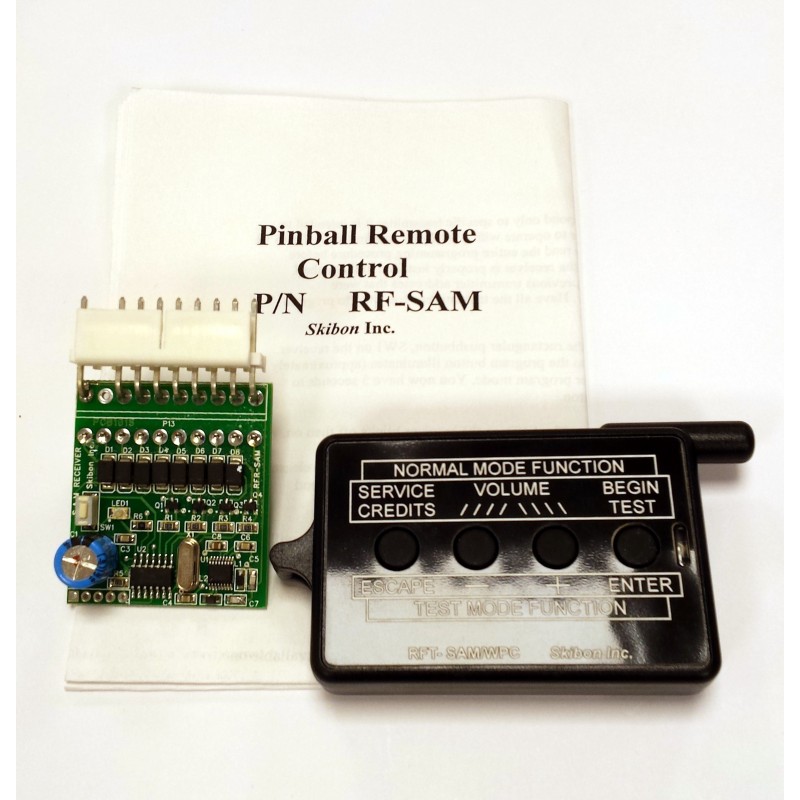  
STERN S.A.M Wireless Remote Control
Wireless Remote Control for your pinball machine!

Tired to set the volume level whenever friends or kids would like to play with your pinball machines?
You would like to give a free credit for customers in your bar to test the pinball machine?

You don't need to bother the player in front of your game, just set the volume or credits with this pinball machine remote controler!
Secured payment
Visa / Mastercard / Paypal
Fast dispatch & delivery
Domestic & International shipping
This system gives you a remote access to adjust volume up/down, add credits, and access all test/audit menus without the coin door open.
The coin door buttons on the pinball machine will still operate after the receiver is installed.

This plug'n play kit is really easy to install, you need less than 2 minutes (no soldering or tools required).

Multiple transmitters can be paired to one pinball machines receiver. If you have multiple machines
it is possible to program one master volume control transmitter to multiple machines.

The transmitter includes a loop so that you can hook it to your machine's key ring if you desire.

Complete instructions are included.

Fully compatible with all the STERN S.A.M pinball machines:
- World Poker Tour
- Pirates of the Caribbean
- Family Guy
- Spider-Man (Black)
- Spider-Man
- Wheel Of Fortune
- Shrek
- Indiana Jones
- Batman
- CSI
- NBA
- 24
- Iron Man
- Iron Man (Pro Vault Edition)
- Big Buck Hunter Pro
- Avatar
- Avatar (Limited Edition)
- TRON Legacy
- TRON Legacy (Limited Edition)
- The Rolling Stones
- The Rolling Stones (Limited Edition)
- Transformers (Pro)
- Transformers (Limited Edition)
- The Avengers (Limited Edition)
- The Avengers (Premium)
- The Avengers (Pro)
- AC/DC (LE)
- AC/DC (Premium)
- AC/DC (Pro)
- X-Men (LE)
- X-Men (Pro)
- Metallica (Premium)
- Metallica (Pro)
- Metallica (Limited Edition)
- Star Trek (Limited Edition)
- Star Trek (Pro)
- Star Trek (Premium)
- Mustang (Pro)
- Mustang (Limited Edition)
- Mustang (Premium "Boss")
- The Walking Dead (Pro)
- The Walking Dead (Limited Edition)
Customers who bought this product also bought:
Reviews
(0)