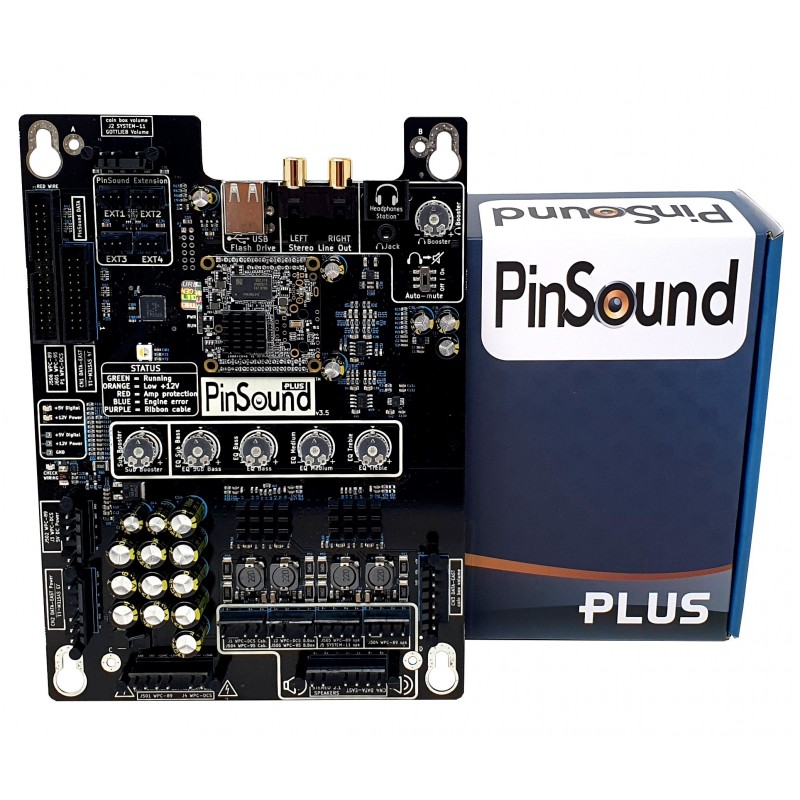  
PinSound PLUS
PLUS sound board

Upgrade your machine with a PLUS sound board!
if you select a WPC95 pinball machine: additional WPC95 harness kit included
if you select a SEGA / STERN pinball machine: additional Whitestar kit included

No USB flash drive included

. We recommend this one: PinSound Sandisk USB 3.0 32Go

if you have a DATA EAST pinball machine, we highly recommend this accessory: Power Booster

Secured payment
Visa / Mastercard / Paypal
Fast dispatch & delivery
Domestic & International shipping
Compatible with many Bally / Williams / Data East / SEGA / Stern pinball machines
*: enhanced sound pack availability may vary depending on the pinball machine

Customers who bought this product also bought:
Reviews
(12)
This has changed my Getaway pinball machine! Sounds amazing. So many sound packs, easy plug and play. I play my pin even more now, I can blast the sound, even at night with headphones that you can attach to the board. I would recommend to anyone for every pin you own.
I have been looking at purchasing a sound board and speakers for my Williams Indiana Jones long for time and finally did so. This system is outstanding. It makes the playing experience just awesome, in fact I will be doing the same to my Twilight Zone here soon. Shipping to my house here in California was super fast.

Thanks PINSOUND,

Charles
Total Rating:





You have an outstanding company and product. Actually, I believe I have all of your products, including the DMD Lux and Speaker Package. Again, your follow-up, concern for the customer underscores what I already believed, PinSound is 1st Class all the way.


Total Rating:





Just want to say the sound now is fantastic, it's totally changed the game!
Total Rating:





Thanks you very much for the quick sending of my Pinsound board. Keep up the excellent work. I love all the packaging and you keep expanding your range. Thanks for the sweets too.