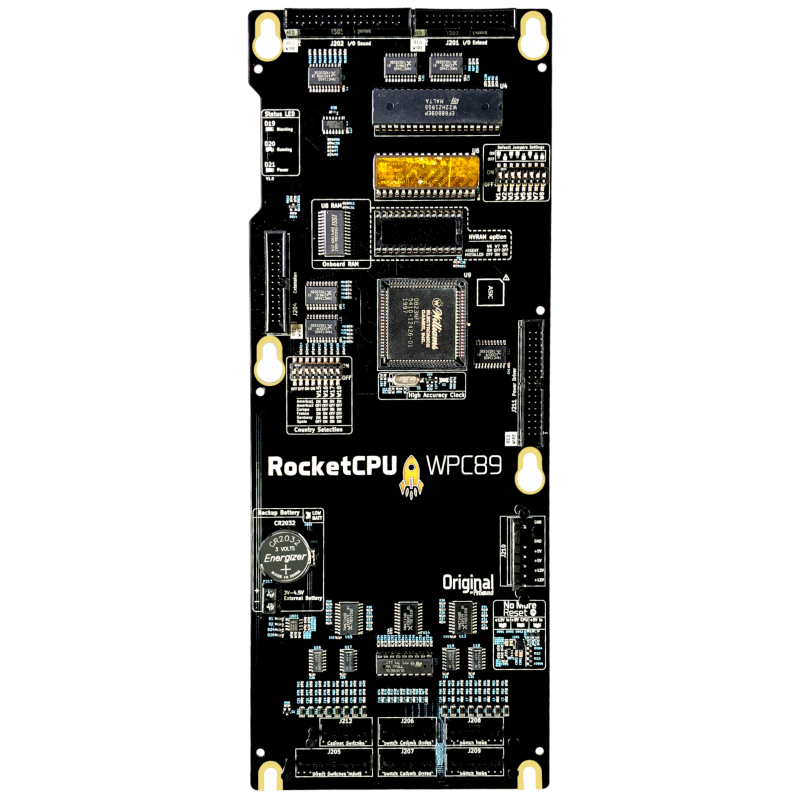  
RocketCPU
RocketCPU, the most advanced and innovative CPU replacement board
100% compliant with original schematics & references
Integrated No More Reset
Integrated onboard RAM
NVRAM ready: NoVaRAM
Installation manual
Select the option "Ready To Play" to receive it fully equipped (ASIC, Microprocessor, EPROM, NoVaRAM NVRAM)

Secured payment
Visa / Mastercard / Paypal
Fast dispatch & delivery
Domestic & International shipping
With this premium service, the following components will be installed on your RocketCPU
Compatible with any WPC89 pinball machine
Customers who bought this product also bought:
Reviews
(3)
The new rocket CPU is an outstanding design in combating old rest issues on my TZ. Thank you Pinsound for bringing new age technology into the pinball world and giving new life to my TZ.
Easy, Plug and play. Worth every penny! Brought my Getaway machine back to life!
My original CPU board developed issues where it would always lose RAM contents even with fresh batteries. The RocketCPU comes with new RAM and much simpler and safer battery type, it was an easy upgrade for me that worked first try. It only takes 15 minutes to move over the chips and install if you follow the instructions carefully. Great product!