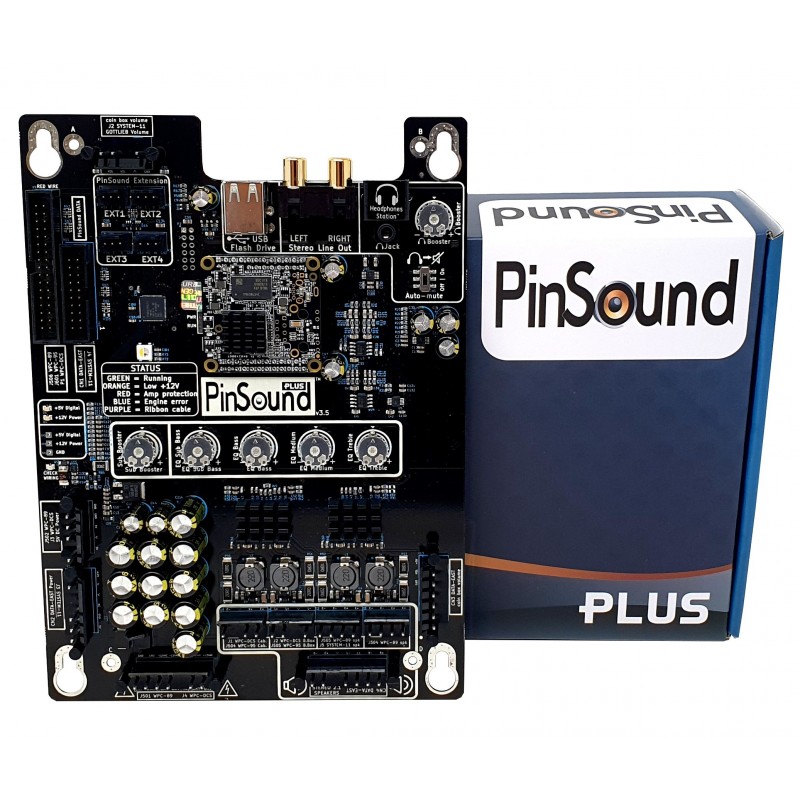 View larger
PinSound PLUS
PinSound+ kit

PinSound+ board (universal compatibility)
Installation manual
Universal mounting brackets & screws
PinSound keychain
if you select a WPC95 pinball machine: additional WPC95 harness kit included
if you select a SEGA / STERN pinball machine: additional Whitestar kit included

No USB flash drive included

. We recommend this one: PinSound Sandisk USB 3.0 16Go
Reviews
(6)
K.T.




Oct 8, 2020




Thank you!

Thanks you very much for the quick sending of my Pinsound board. Keep up the excellent work. I love all the packaging and you keep expanding your range. Thanks for the sweets too.
F Christophe




Feb 25, 2020




Carte son+

La pose est facile, le résultat est Fantastique !! Avec les mix cela transfigure votre flipper. J'y ai de plus ajouté un Shaker ( déjà configuré avec la carte son) et là c'est le top!!
J.H.




Feb 24, 2020




Thank you!

Just a big thanks for your great product! This has totaly lifted my jurassic park from great into EPIC! Great stuff!
D Mordy




Mar 11, 2019




Great product!

Just wanted to share how impressed I am with the PinSound board for The Addams Family machine. Extremely easy to setup and sounds awesome!
L Chaz




Mar 21, 2018




PinSound Board - Just installed on a DataEast Batman

All I can say is AMAZING! The sound quality is epic. You must upgrade your speakers in order to appreciate and enjoy what this board is putting out. Go on and install the subwoofer. You will not be disappointed. I went ahead and bought a second board in anticipation of one of the other tables it supports. Seriously, this board is that awesome. Looking forward to placing this in another machine and taking it to a whole new level of excitement. Nice job guys! Chaz
Only users who already bought the product can add review.